Al Basha'er Fund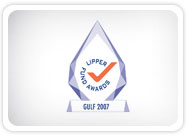 The Al Basha'er Fund has been awarded Best Islamic GCC Equity Fund by Lipper Fund Awards 2007:
This award is one of the most prestigious in its field only presented to funds that have excelled in delivering consistently strong risk-adjusted performance relative to peers. ADCB is proud to be the sole distributor of the fund in the UAE.
ADCB Investment Services
Introducing the Al Basha'er Fund, a new Shari'ah Compliant investment opportunity brought to you by ADCB (the sole distributor in the UAE), and designed to help you take advantage of the thriving economy in the GCC.
The Al Basha'er Fund will be invested solely in the GCC Markets:
giving you access to a vibrant market spread across six nations.

ADCB is the sole distributor:
giving you peace of mind.

Al Basha'er is completely Shari'ah Compliant:
compliant with the ethics of Islamic banking .

Managed by Kuwait Finance and Investment Company and Gulf Finance House:
giving you local expertise.
Alternatively, visit one of our ADCB branches, or call our 24-hour Contact Centre on 800 2030 for more information.